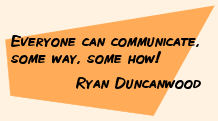 A huge THANK YOU to everyone who shared their stories and visions for expanding assistive technology services in the greater Sacramento area!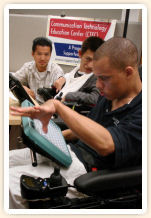 We are excited to announce that our new Communication Technology Education Center (CTEC) is now open!
CTEC provides services in Augmentative & Alternative Communication (AAC), which is the use of personalized methods or devices to increase a person's ability to communicate. Most individuals who use AAC rely on a variety of methods, from "light tech" to "high tech". CTEC will showcase a wide range of AAC systems.

CTEC is:
A place to see, touch and try out AAC technology, from light tech to high tech
A place to connect with others
A place to get assistance with the assessment, trial, and funding process,
A place to learn how to use new technology,
A place for consumers, family members, and professionals to get the support they need to make appropriate technology decisions.